We departed on 24th Jan 2013 at 0100 and arrived on the same day at 0820.
The time zone is 1 hour different with Korea 1 hour faster that Malaysia. So the flight takes 6 hours and 20 minutes.
The temperature was 2 degree Celsius but it went colder. When we walked outside of the airport to the bus, there's smoke coming out whenever we breathe out or talking!
신기하다
!
ㅋㅋㅋ
The first place that we went was the museum and blue house.
Museum
Our first group picture in Korea :D
The Blue House at the back
But we're just taking the pictures outside of the Blue House. When we walked back to the bus, there's tiny snow falling! We lunch at Indian restaurant in Itaewon before went to Nami island, the Winter Sonata's filming scene set.
Enjoying 'Snow fight' in Nami island lol
There are a loooooooooooot of snow and the scenery is so beautiful! We went there by boat. I tried to eat snow too!
ㅋㅋㅋ
The weather went colder went we are on the way back from the island and the snow falls! :D After that, we went to Mount Sorak. We dine at a seafood restaurant before went to see the live fish market. We check in I'park hotel at 9pm. The wind blew strongly that it produced a scary sound at night.
My family can't accept kimchi taste! lol haha
Day 2
After breakfast, we went to Mount Sorak before went to cheese making session in sheep farm. Then lunch at a seafood restaurant. After that, we went to rent the ski clothes n googles before went to check in Yongpyong Resort.
In Mount Sorak. So effing cold!
In front of sheep farm. Full of snow!
The DIY cheese's ingredient
Last step of making cheese! put some pressure on it!
White snow everywhere~ ㅋㅋㅋ
Pollack Fish
We went to ride the gondola and the temperature up there is so cold, -18 degree Celsius! At 3.40 pm, we start our ski learning session and we had a great time together. But there's something that ruin it when we knew that we have to return the ski equipment at 6pm.
In gondola
le 오빠
it's SNOW! >__<
after ski time
So we went back to hotel and I watched Music Bank on TV! Soshi win that day!
ㅋㅋㅋx
D At night, the 3 of us,
오빠
,
남동생
and me went to celebrate my birthday together! :D
selca with snow! lol
idk how long the owner of the car didn't use it
le hype 남동생 running into the snow
Day 3
It's my birthday! After breakfast, we went back to Seoul. On the way there, we went to return the clothes and goggles that we rented. We also went to kimchi making session and wearing hanbok too. After that we lunch at the same Indian restaurant in Itaewon before went to Lotte World, the second biggest theme park in Korea but we can't played anything because there are a lot of people and the waiting time for 1 game was too long such as 1 and half hour, 2 hours and the longest one was 2 and half hours! I don't think Malaysian are willing to wait for 2 hours just to play a 5 minutes game.
Kimchi Making Session
lol forgot to get rid the sunglasses haha
Next, we've got some shopping time in Doota and Mig Liore in Namdaemun. Doota sells designed clothes and stuffs but I'm not sure about Mig Liore because I didn't go there. It is because I'm not in a good mood and was separated from my other siblings. Therefore I'm not exploring the Mig Liore and didn't buy anything there. My siblings said that there are a lot of things with reasonable price there. After that, we went to check-in Co-op Residence hotel. The hotel is not as good as the first 2 hotels that we stayed and there's no interesting place near there either. But I found 'Yoona' in front of a shop and we took picture together! XDDD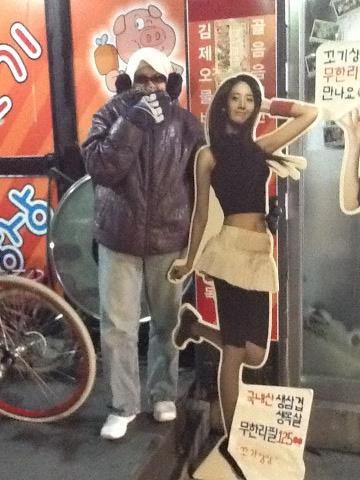 OMO i touched her abs! LMAO XDD
After breakfast, we went to watch the 'talk show'. My family was so bored of it. LOL it was about ginseng, cosmetic and amethyst duty free shop. When we talk about duty free shop, the price is .___.
waiting for the others in the lobby while twitting ㅋㅋㅋ
seaweed + corn soup lol
Amethyst
lunch ikan bakar
Menu in ikan bakar shop
Then we went to Lady's Street near Ehwa Women's University. And there's no souvenir shop either! OTL
Lady's Street
At 3.30pm, we went to Sachoom Dance Show, Korean Dance Theatre. It's not bad but the girls are so effing sexy! And the guys.. are not bad~
ㅋㅋㅋ
Too bad that I didn't manage to take a picture with my favorite dancer, the guy with orange hair.. OTL he stepped out of the picture-snapping area too early and I just missed him in 1 second!
Sachoom's lead actor that full of aegyo
After that we went to shop at Myeongdong Street. It is also famous place for shopping, but not for souvenir. We went to ask the Tourist Information Centre about the location of souvenirs shop and they said it is located in Insadong. It is located almost 20 minutes (or the fastest 15 minutes) from Myeongdong Street by walking. But we didn't go there as there's not enough time. So we just stayed there and I bought 3 IGAB, Oh! and Twinkle albums in MusicKorea store. It is located on 3F in Nature Republic's building. There are a lot of Nature Republic shops there. But the Musickorea's store is located in the Nature Republic's BUILDING, not shop. I went there because someone said that the price is cheaper there, but I think it is the same with the other kpop store there. We went back to hotel at 9pm.



Mission accomplished: Bought IGAB and Twinkle albums. :D
Myeong-dong
all 5 groups
Day 5
After breakfast, we went to another 'talk show', herb. After that the tour guide gave us 1 hour to last-minute shopping in Myeongdong Street, but we went to Insadong. There are a lot of souvenir shops there!
Soshi took selca here before! >_<
Lastly, we went to airport and said goodbye to Korea on 28th Jan 2013 at 1735.
Goodbye, Korea!
We arrived safely at 2355. Oh, Malaysia is soooooooooooo hot! Hahahaha